Borbet High Quality German Alloy Wheels

The family-owned firm, which was founded in 1962 by Peter Wilhelm Borbet, is one of the world's major makers of light-alloy wheels, with six facilities in Germany and one each in Austria and South Africa in addition to its headquarters in Germany. The emphasis is obviously on Germany as a manufacturing site, and the label "Made in Germany" ensures high-quality items.
Mrs. Margot Borbet, the wife of firm founder Peter W. Borbet, assumed the role of general power of attorney in January 2019. The BORBET Group, with its 4,500 people, has been under her leadership since then, working with a team of managing directors and plant managers to guide the company forward.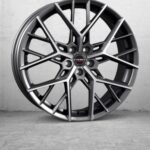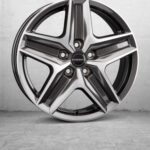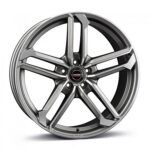 Are Borbet Wheels forged?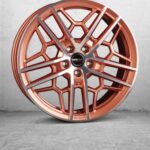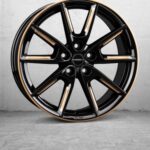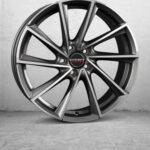 What are the more popular Borbet Wheel models?
The popular Borbet wheel models include the Borbet A, Borbet C, Borbet XRT, Borbet CW4, Borbet ATX, Borbet LV4, and Borbet Type RE.
Borbet Wheels all you need to know...
A wheel's aerodynamic qualities may have a significant impact on a vehicle's fuel economy and range. Using vehicle-specific wheel designs, BORBET reduces the vehicle's air resistance, hence reducing fuel consumption and emissions. In order to meet the legal CO2 limit, BORBET AERO products have a significant impact. 
Borbet Wheels - Nature Wheel
BORBET has developed a technique that blends traditional permanent mold casting with natural minerals. When the statics don't necessitate the use of metal, this light material serves as an integrated skeleton in the cast. Invisibly, this new technology helps lighten the bike's load, and it does it with unwavering dependability.
Borbet - Exapeel - Spoke Edge Polished
Decorative areas on wheels, such as the spokes, the top surface on the exterior, and the inner brake contour, may be made with spectacular quality using gloss milling. Deeper surfaces, as opposed to those with a high shine, may also be highlighted.
The wheel weight is lowered by reducing the thickness of the rim well wall. As a result of reduced weight, a vehicle's range increases and CO2 emissions are reduced.
Borbet - Alloy Wheel Inserts
BORBET uses inserts to decrease the vehicle's air resistance and, as a result, the weight of the wheel, resulting in reduced fuel consumption. In addition, inserts allow for further customization of the appearance.
Borbet - Exapeel - Colour Laser
The base coat is partly removed by spinning the wheel, either as a ring segment or across the full surface, while painting. Color priming may be followed by a second coat of paint, which can be done in black or gray, and the final coat of paint. Mechanical overturning exposes the targeted portions, which are subsequently coated with a transparent varnish.
Borbet - ExaPlus - Rotary Ring Pad Printing
On the rotational level, the ring printing is an advancement above the pad printing. The rim flange's hump-enclosing design is a trademark of this method. Even with low-profile tires, this technology ensures a constant appearance and a broad range of personalization choices owing to a large variety of color combinations.
Borbet - Exaplus - Coloured Clear Coating
Using milling or turning, specified parts of the wheel are machined and then coated with a colorful clear finish. This provides the mechanically treated surface a shiny shine and accentuates the aluminum's light backdrop.
Borbet Wheels - Flowforming
Rotation and pressure are the keys of automated FlowForming: Using spinning to compress the rim bed provides higher stability and a thinner, more delicate rim bed. The bike is lighter and more durable, and its driving dynamics are noticeably improved.
Borbet Wheels - Performance Cut
The back of the spoke receives a complete removal of material with the Performance Cut.
Minimal casting requirements are maintained and mechanically reduced to a minimal thickness level. Weigh savings and perfect sizing are guaranteed by this method.
Borbet Exapeel Signature Laser
Lettering and logos may be applied on the bike with ease using a laser. The basecoat is peeled away by a laser beam, revealing the colorful primer below. Clear varnish is then applied to the wheels.
Borbet - Exapeel Glossy Turning
Laser-controlled CNC lathes with diamond inserts are used to transform the metal's surface into a mirror-like finish that highlights its inherent sheen. Clear varnish is applied to the wheels after they have been machined.
Using an automated procedure, undercutting removes any non-load-bearing parts of the rim foundation. As a consequence, the wheels are lighter while maintaining their strength. In addition, the increased cross-sectional area improves ventilation.
Exaplus Signature & Design Pad Printing
Pad printing allows for a wide variety of color schemes and decorations with optical highlights, such as logos or text, to be shown in a variety of ways.
In this manner, the bike's look may be tailored to suit the needs of the buyer. It is possible to apply a wide range of colors and shapes on the surface of a piece using this printing method.
The traditional star shape of popular light alloy wheels is broken up and reinvented into a Y style by the spokes of the Y-wheel, which go slightly curved from the wheel rim to the wheel center. Because the wheel hub is positioned so deeply in the middle, attention is drawn to the spokes.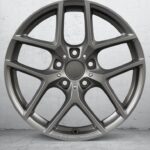 New Generation of Alloy Wheels
The new generation of BORBET wheels are designed for high performance vehicles with low rolling resistances (low drag). The design is based on an innovative concept: the use of two different materials in one single component. The first material used is carbon fiber reinforced polymer (CFRP), which provides lightness and strength properties. This material has been chosen because it can be easily processed into complex shapes such as those required by modern cars. It also allows us to reduce weight without compromising safety or comfort levels.
Borbet Wheels Address and Contact Details