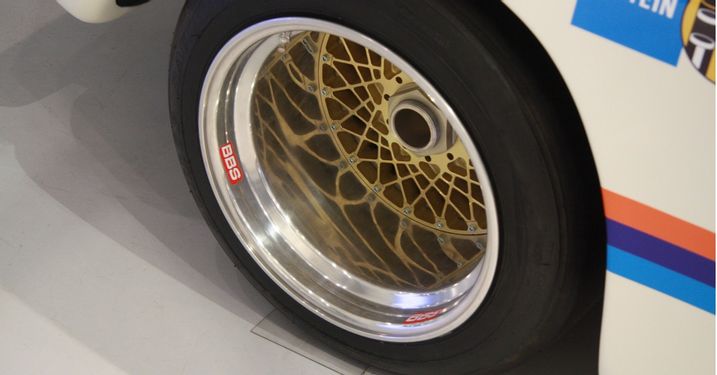 Here's Why BBS Wheels Are So Expensive  HotCars
If you have ever wondered why your neighbor's classic BMW 6 Series has shiny wheels which resemble that of your other neighbor's Ford Model A, just understand that they both serve a very different purpose. The original BBS RS was brought to life in 1982, where it revolutionized the OEM market, where models such as the early 3ers wore a set as standard.
Although rather small in radius, the 14-inch shoes set the car apart from other models. So it's not surprising that a host of manufacturers had to take into account the design of the wheels during the planning stages of new vehicles.
BBS' brand status has grown exponentially both in the OE segment as well as the aftermarket scene, where it seems to have blossomed more. So what makes a set of BBS LMs, RS, or even the Super RS so unique?
Aluminum
Some of us are lucky to have cars with alloy wheels. However, those that can afford a set of BBS' wheels will have the option of choosing from two lightweight options. The forged aluminum alloy is the cheaper one out of the two, with lightness being the top priority. So how are a set of forged alloys produced, exactly? Well, you start off with a Billet of 6000 series aluminum, then using a three-phase die-forging process, a semi-finished piece is formed.
Finally, the wheel endures heat treatment and is then milled to specification before undergoing the final finishing touches. This is one of the reasons that make a set of BBS aluminum alloys very unique and thus fairly expensive. The go-to set for your Porsche 911 GT3 would be the Forged Line FI-R, the most advanced of the three designs that BBS offers.
Forged Magnesium
If your need for track days exceeds your desire to attack back roads, then BBS can provide you with some race-spec wheels at a relatively reasonable price of \$4,550 per wheel. Look no further then, as for \$18,200, your Porsche 911 GT3 RS could be made nearly 32 lbs lighter than its factory counterparts.
Seeing that magnesium is much lighter than aluminum and extracting from its ore is a very demanding procedure, the hike in cost compared to an equivalent aluminum set can be difficult to justify, especially when a set of RE-MTSP costs more than the base KIA Forte.
As previously mentioned, BBS built a name not just by being the OE wheel suppliers for carmakers but also for motorsport teams. Take a look at Michael Schumacher's Ferrari F2001 that sold for an eye-watering $7 million back in 2017, and if you take a closer look at the shoes that it's wearing you'll be able to notice a very familiar design. Yep. The same car that Schumacher won the Constructors Championship in 2001 wore BBS wheels.
If you are on the lookout for the specific wheel used in that race, then make a bid on eBay and it can be yours for as little as $2,200, a fraction of what the RE-MSTP costs. So if your mk4 Golf GTI or BMW e90 320si wheels look similar in design to that of an original set of BBS alloys, then rest assured that they are, in fact, manufactured by BBS. This obviously does not mean you can go flat out through every sharp corner you see, but it's an added bonus knowing that an element of your car has a strong pedigree behind it.
RELATED:Here's How The Volkswagen Golf GTI Evolved Over The Years
Where Are BBS Wheels Produced
Buying a German car manufactured in Germany is like buying Sushi that is made with genuine Japanese Wasabi. It has to feel authentic. In the same way, having a set of CH-R manufactured in the country the brand was founded in is key in keeping the product original and also preserving the history of the brand.
With a German stamp of approval, it is pertinent that the alloys possess mechanical strength that matches or even exceeds that of the OE set that it replaces, which they do. If you are not fond of the workmanship from those in Germany, then variants such as the LM and Super RS can be purchased, which are forged in Japan. Considering that both of these nations take extreme pride in their craft, it makes sense for such unique, calibrated, and made-to-order pieces of metal art to be manufactured in these countries.Via: Hipwell, Wikimedia Commons – https://creativecommons.org/licenses/by-sa/3.0
Starting off as a supplier of plastic body parts, the BBS name was 'forged' together when Heinrich Baumgartner and Klaus Brand chose engine piston innovator Mahle to build their first three-piece iteration. Inevitably their ingenious design, which optimized strength while capitalizing in the lightness department, put them on notice in the area of motorsports.
With a lot of research and design from motorsports moving its way into civilian vehicles, it was only a matter of time before the BBS-Mahle went on to revolutionize the aftermarket segment. Evidently, automakers wanted a piece of the very fruitful pie that BBS was baking, resulting in them becoming the go-to brand for wheels. BMW, Lexus, and Ford were some of the exclusive automobile manufacturers that not just utilized their wheels but unwittingly endorsed them. Hence, the brand was able to achieve the global stance that it now possesses.
To conclusively round off why a set of BBS alloys amount to three figures, appreciating the meticulous manufacturing process behind them counts as one of the key contributors. Consequently, the latter led to carving a name for themselves in the field of motorsports such as World Rallying, F1 as well as DTM.
The balance between science and style means a diverse community of auto enthusiasts can cater to their unique tastes and requirements. Hence, the connotations behind the brand also factor in the price.